We made an interview with pastry designer and the founder of GEST REFINED PATISSERIE Emrah Şenday.
DOGO: Hi Emrah! Can you introduce yourself to us?
EMRAH: Hello! My name is Emrah Şenday. I completed my education in the field of tourism and hotel management. I always had a passion for baking and pastry. I wanted to turn that passion into a job and took various trainings in pastry making in France and Moscova. Julien Alvarez, the famous chef that trained me, shed a lot of light on me in setting up my own brand. Producing my own desserts in a open kitchen workshop was my childhood dream.
DOGO: How did you find Gest Refined Patisserie? How did you turn your passion into a beautiful place like this?
EMRAH: Seeds were planted when I was a child, I used to make a cakes for my mom. This hobby has led to the idea of making my place for desserts. After the trainings I took, my progress continued with our brand creation process. GEST is formed with our family members' head letters. Gülşah (my sister), Emrah, Saniye (my mom), Taci (my dad). Although I make production part by myself, we are a family company. My sister Gülşah works on promotions, advertising, social media and cooperation, before and after the brand creation process. I think we're really a good team making the brand more comprehensible.
DOGO: Can you tell what are your dreams for GEST and yourself?
EMRAH: GEST was my childhood dream. Also it was a conscious choice to be a open kitchen workshop. We just want to bring our tastes with more people. We want to promote our brand with more cooperations. However my biggest dream is to see GEST REFINED PATISSERIE on 5th Street in America.
DOGO: What is GEST's difference?
EMRAH: The difference is our excitement. Turning dreams into reality, never giving up on learning and working. In fact, everyone can do the same job but your attitude and style is your difference. Our difference is our energy and the love we have for our work.
DOGO: What is your favorite dessert as GEST?
EMRAH: Our favorite taste is Religieuse with peanuts. This dessert is made with peanuts we bring from Gaziantep is quite delicious.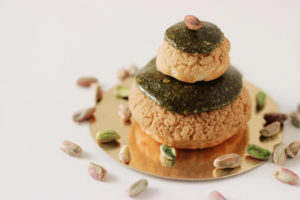 DOGO: Which chefs inspire you?
EMRAH: I am inspired by Karim Bourgi, whose creativity and energy always fascinates me, and Julian Alvarez, from whom I learned both the recipes and the system of French pastry.
DOGO: So how did you meet with DOGO?
EMRAH: It is important to present strong dessert images. Colors, textures and composition should be complementary. We were searching for a brand that will complement this composition in our photos and reflect us. Than we saw DOGO and said this is it! Your colors, designs and the energy excited us.
DOGO: Can you say 3 words that describe DOGO?
EMRAH: Creative, different and energetic!
DOGO: Thank you so much Emrah!