One of the best airlines of Turkey, Onur Air made an interview with DOGO Creative Team. If you are looking for tips for next season, you will love this interview.
Onur Air: Where do you start when you prepare the collections?
DOGO: First of all, we review trends. We analyze what will happen next season. DOGO has its own language in terms of design. This also helps a lot. The appreciation of our target audience, the feedback we received from our customers helped us. Most importantly, we set the theme based on trends.
Onur Air: Although there is a common language in colors, each product has it's seperate story. It seems that the names you give to your products tell the stories.
DOGO: Each one is like a work of art. Our designers are free in that respect. They work and produce like artists. We have no limitations. Our products give people messages to maket hem feel good. That's why we get photos of customers hugging the product. They find the characters , the 
writing and the fonts on the items very 
cute.
Onur Air: How do you determine the product range?
DOGO: Boots, shoes, bags and flat shoes are the center of Dogo. We are not a shoe company, we are not a textile company. We can decide on a new product at any moment and design for it. Our products are also the most basic in the field, they Show the design better.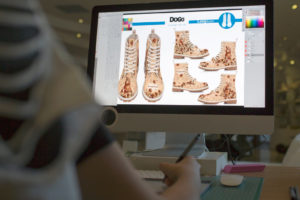 Onur Air: Do you think people prefer Dogo because of the customized products?
DOGO: Slogans on T-shirts are very popular for the last couple of years. So we use them in our designs. We put slogans and messages on them. People see the products as means of talking about themselves. In the coming season there'll be more products with slogans in every area. People are looking for clothes and accessories that show their mood and their feelings.
Onur Air: The brand is expanding abroad, growing continuously. Are you making country-specific designs as a design team?
DOGO: We have built a universal language into our designs. Therefore, we do not make any country-specific works. Design has a universal language like music and art.
Onur Air: You seem to be focusing on children's products..
DOGO: Yes because the demand has increased. For the new season, we are preparing matching products for parents and children. Our 2019 Spring/Summer Collection includes models to be worn as a family. In a sense people meet their desire to be unique this way.