Banksy, the elusive street artist, thanks to health workers. It is a fact that unusual conditions lead to extraordinary results. The days of the pandemic, which affected more than four million people worldwide, when suddenly found ourselves in our homes, were a period that revealed our creativity. Some of us experienced cooking ultimate Italian dishes in pursuit of focaccia, some Spanish in pursuit of San Sebastian cheesecake. The Majority at least touched the bread dough once:) Some of us tried organic agriculture in balconies, more courageous started painting wood. We knitted, wrote, drew, composed… Whatever we did, in the end, we developed, created, and enjoyed a lot!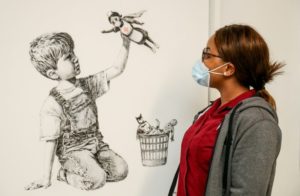 Even we, simple people, could dream to create none of these things just two months ago, imagine how this global fact affected the artists, how it triggered their creativity … The coronavirus pandemic, on which films will be made, books will be written, documentaries will be shot seems to have also affected the legendary street artist Banksy. His new artwork paying tribute to National Health Service workers have turned up at Southampton General Hospital in the UK.
The artwork, titled Game Changer, depicts a young boy playing with a toy nurse bedecked in a face mask and Red Cross emblem (the only color in the artwork). In the background, Batman and Spider-Man figurines have been discarded in a wastebasket.
The painting of Banksy aiming to thank health workers was delivered to the hospital along with a note of the artist: "Thanks for all you're doing. I hope this brightens the place up a bit, even if its only black and white."
According to a spokesperson for Banksy, the work will be on view in a hallway of the hospital's emergency department until this fall, when it will head to auction to raise funds for the frontline health workers.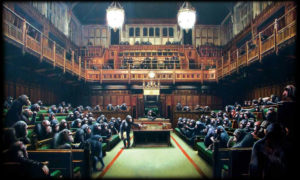 Art experts expect its value to be worth in excess of £5 million. Only time will tell if its subject matter will lead it to eclipse the £9.9 million that Devolved Parliament realized at auction last October. But it is a fact that healthcare professionals go beyond what they can do. Endless thanks to all of them from us.