During the corona days, when we spend most of our time at home and are afraid to step outside, lots of us have tried various cooking recipes, sports, games, etc. Also, there are new fashion trends like "Tie-Dye" raised that we can enjoy doing at home by ourselves.
In this season, the fashion world is experiencing a return to the past movement. T-shirts, dresses and scarves created with tie-dye technique, which was really a popular trend of the 80s and 90s are coming back! It's now so easier to have colorful clothes with batik printing which we often come across in Summer 2020 collections. Now, do it yourself! As many Instagram influencers posted a video about tie-dying recently, you can too try this at home. There are many techniques for tie-dying. Button technique, wrapping technique are just a few of them, we will tell you the secret of creating your pattern in the easiest and fastest way in this article.
You can find the needed materials anywhere;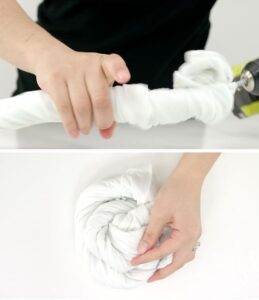 • A rope
• A dark-colored t-shirt or sweatpants (or any clothes, tablecloths, etc. you want to paint on like an artist!)
• Finally, a bleach
Since we will use bleach, you can lay a cover, newspaper, etc. to protect the surface you are working on in case of splashing and spilling. Whether you fold the t-shirt or a piece of fabric perfectly or wrap&wrinkle it randomly, just tie it tightly with the rope. You can also lay the t-shirt on a table, place your finger in the middle and wrap it in circular motions and apply the same steps. The second part is even easier, slowly pour bleach on the clothes we tied with a rope. Don't forget to turn the t-shirt 2-3 times and don't pour the bleach too much because we want a colorful t-shirt! Leave it under the sunlight for about an hour. Your masterpiece is ready!
You can watch the video below to learn more about tie-dying
You can take creativity to the next level. Use shapes as you love to paint your t-shirt. You can do the same thing by dipping a white t-shirt in a wide basin filled with various fabric dyes. Customize your cloth up to your taste! Do not forget to inspire yourself and take care of the artist in you.