DOGO is now in Bologna, Italy!
We had the chance to interview Adwaa Al-Ariki, our store owner, who started everything with the dream of opening a store and selling designer products in Italy.
Hi, can you introduce yourself?
Adwaa, from Yemen, with over 25 years of professional experience in Management and Organizational Behavior. I had done two master degrees in Bologna (Master in Marketing, Communication, and New Media and MBA – Innovation Management)
How and when did u meet DOGO?
May 2018, in Galata Tower, while I was out shopping and loved it!
People usually get so excited and say they've never seen shoes like this when they meet our brand. What did DOGO make you feel first?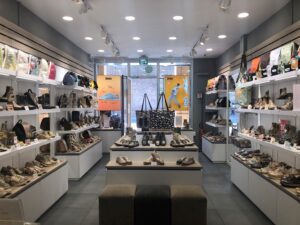 I was attracted by the designs especially the products with cats, as I am a cats' mother myself 🙂 and also paint. I thought it is very creative and unique. I liked the diversity of the products.
What was your inspiration behind opening a DOGO store?
I wanted to have a business of mine since I am settled in Italy, and I felt DOGO is a potential brand with its uniqueness and it could have a great acceptance if it was presented well.
Why Italy and why Bologna?
Italy is the country of fashion and people are following the trendy fashion with good quality. Additionally, Bologna is the region's capital and hosts several exhibitions all year long. It is one of the most visited cities and the place of many important attractions. Besides, it is full of the young generation that DOGO design will certainly attract.
Can you define the characteristics of DOGO Lovers?
Animal lovers, people who like creativity and being different, also grandparents who like to gift their grandchildren nice gifts. Elegant ladies as well.
Do you personally use DOGO products?
YES! my first two products were purchased on May 2018 (Deepness sneakers and tall bag)
What's your favorite design? Which designs the visitors love the most?

Mine are Deepness, Yummy, Sleeping Dogs. Visitors love Music on World Off, There is Always a Hope, Floral Yellow, Meow Meow.
What are the customer reactions?
They get WOWed so much with the designs! The comfortable feeling and diversity in print attract them the most.
Can you tell us what do they ask the most about DOGO Shoes?
Potterheads ask Harry Potter shoes for kids, and they wonder about the vegan leather and our production process.
If you are in Bologna and want to meet with us and our unique designs you can find our address and working hours here.
See You Soon!