Japanese artist Tatsuya Tanaka by creating creative miniature dioramas add a little enjoyment to our everyday life.
The term "diorama" denotes a partially three-dimensional, full-size replica or scale model of a landscape typically showing historical events, nature scenes or cityscapes, for purposes of education or entertainment.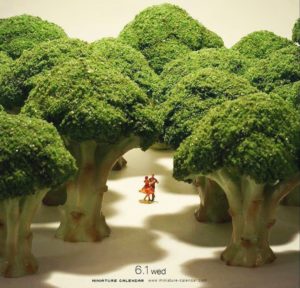 It is for sure Japanese artist Tatsuya Tanaka, who has 2.5 million followers on Instagram, has increased excitement and interest in this art. Born in 1981, when he realized that he started to earn more by doing diorama and photographing while working in a design company, he completely dedicated himself to this work. The dioramas he prepared are used today in book covers, advertisements and TV series intros.
Since 2011, art director and photographer Tatsuya Tanaka's imagination has built a magnificent number of miniature worlds. However, his work has a very different feature. While preparing his compositions, the artist uses an ordinary object in its real size, which adds extraordinary creativity and humor to his work. About inspiration Tanaka states, "It all starts when an ordinary object suddenly reminds me of another thing. It can happen at a grocery store or while watching TV. You don't know when and where the inspiration come."
Another feature of Tanaka is that he creates every day since his inception. The artist emphasizes on "Persistence pays off " and attributes the number of followers he has reached at the end of nine years. He has turned his hobby into a unique business.
Tanaka made exhibitions in Taiwan and Hong Kong and also released a book of his work, Small Wonders.
You can see more from Tanaka's ongoing Miniature Calendar project on Instagram. He shares his creations every day. As he says: "It would be great if you could use it to add a little enjoyment to your everyday life." Enjoy!