Frida Kahlo, who spent her life struggling with difficulties is known by everyone with her iconic thick eyebrows and braided bun. She is one of the few artists who became popular for her artworks both during her lifetime and after her death. Frida, who tried to cope with many health problems from the beginning and till the end of her life, tried to get away from all these problems by taking shelter in art. She loved expressing her feelings via drawings. The self-portraits that she drew looking at the mirror hanging on the ceiling of her bed also reflect the mental and physical pains she suffered. Looking at her works, it's obvious that there is a story behind almost every painting.
She criticizes the tragic events happening around her, sometimes with a bit of comedy and sometimes in a harsh way. The Mexican artist, whose personal life was also quite turbulent, didn't hesitate to reveal her thoughts with her art, even if she didn't openly respond to the unfaithfulness she experienced. Just like a writer, Frida has told her own life with each painting. The young warrior woman, who highlights her two unfortunate pregnancies, motherhood and femininity in her paintings, has become one of the leading representatives of feminism in time. Even if the whole world accepts her as a feminist, what would Kahlo say as the one who rejects all the labels? This will always remain a mystery…
Besides her art, her femininity, and her unfortunate life story, she was also highly devoted to her country. This devotion was firm enough to put her birthday on Mexico's independence day, so she became a woman of revolution, literally.
As DOGO family, we take her creativity and extraordinary perspective as an example and try to create unique products just like her beautiful soul. DOGO X Frida Kahlo Collection is dedicated to all the women who want to unleash the rebel in them.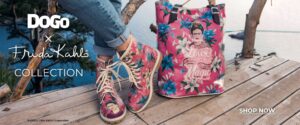 Thank you, Frida Kahlo, for being just you, not as a modernist or surrealist artist. Happy birthday Frida Kahlo!
Umay Özel