We have done an interview with Gökhan Peksarı, founder and CEO of DOGO, a great father of 4 kids. Enjoy reading!
DOGO: What were the activities that you enjoy with your father in your childhood?
Gökhan Peksarı: When I was a kid, I was addicted to football and a huge fan of Michel Platini, captain of the French national team. My father was a former football player who played in Konyaspor during his university years. Playing football with my father was one of my favorite things in my childhood.
DOGO: As we know, you have two twins, how does it feel?
Gökhan Peksarı: Of course it's an extraordinary feeling! Trying to be a father and a brother at the same time to 4 different characters is incredibly fun. It makes me feel so alive to be a part of their interests and hobbies. I think I'm the luckiest guy in the world!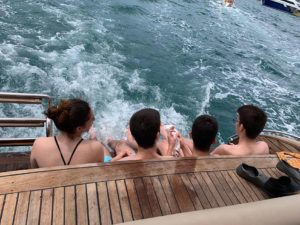 DOGO: What has changed in your life after you become a dad?
Gökhan Peksarı: Sleeplessness. I haven't slept for 15 years…
DOGO: What are your 3 favorite activities to do with your children?
Gökhan Peksarı: When you have 4 kids, you can't name only 3 things. Any moment that I see them happy, makes me happy too. They are so different from each other, I do my best to get into their interested topics . The more I see them happy, the happier I get. However, when Ömer Ege has a break and comes from İstanbul, we have more fun than ever as a team.
DOGO: What is your craziest dream that you want to do with your kids?
Gökhan Peksarı: Living with 4 kids is crazy enough!
DOGO: Are there any differences between your time with your father and your kids?
Gökhan Peksarı: In the past, fathers were just fathers. You used to love and respect them. The time you spent with them was limited and precious. New generation have different fatherhood expectations, such as brotherhood and friendship. You need to make an effort to understand the language they speak. The easiest and the most enjoyable way is to understand them and become friends. I believe I can understand them and enjoy the every seconds that I spend with them.
Happy Father's Day!